Stop Excelling your data,
Excel everyone with

ue

Calc!
make your finance model by one "click"...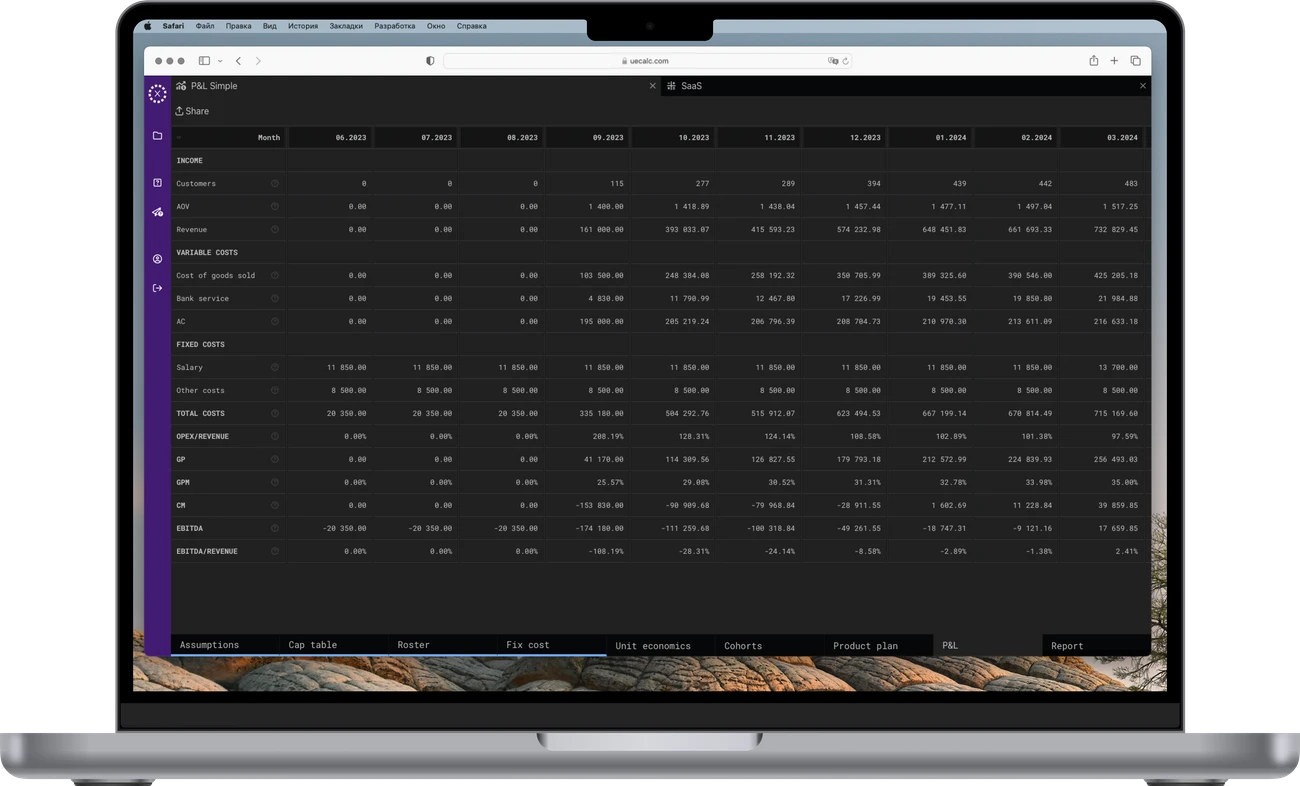 P&L modeler
unit economics
Creating a financial model has never been easier than with ueCalc. You simply need to describe your team's capabilities and any business limitations you have. We will then calculate the rest for you using Goldratt's Theory of Constraints.
Business model of any complexity

Describe your business model, whether it's a classic transactional business, e-commerce, or subscription-based SaaS. Outline your sales funnel, average transaction value, and cost structure formula, and let ueCalc handle the rest for you.

Forecast your business model

To optimize unit economics metrics in your business model, leverage Goldratt's Theory of Constraints along with a thorough understanding of your team and market constraints. Identify and address bottlenecks within your processes, and continually analyze and refine your unit economics to achieve optimal values.

Cohort-based customer modeling

Utilize formulas to efficiently account for dynamic parameter values across various models. For instance, establish a correlation between the number of customer support staff and the count of active customers, enabling proactive staff hiring.

Customization of each metric

Easily customize metric growth rates with options for linear, exponential, or sigmoid curves. Fine-tune the sigmoidal growth curve for precise control over your model's metric changes.

Effortlessly create a Cap Table for your model with any number of investment rounds, investors, and founders. Simply input the initial values into the cells.

Utilize formulas to efficiently account for dynamic parameter values across various models. For instance, establish a correlation between the number of customer support staff and the count of active customers, enabling proactive staff hiring.

Quick analysis of your unit economics

Assess your unit economics across 20 parameters to gain instant insights into the potential for growth and evolution in your business model
Join our 7500 users today
ueCalc

Made with love for the whole world
We believe that anyone can attempt to start their own business, and we are here to assist them.
Powered by NGINX

Product
Calconomics